The Western Cast Iron Art Alliance consists of iron casting artists in the western states that came together in 2008 and continue to work to inform the public and promote the understanding of cast iron art in the region. This group of sculptors creatively focuses on a variety of art forms ranging from installation to performance works utilizing cast iron as their vocabulary.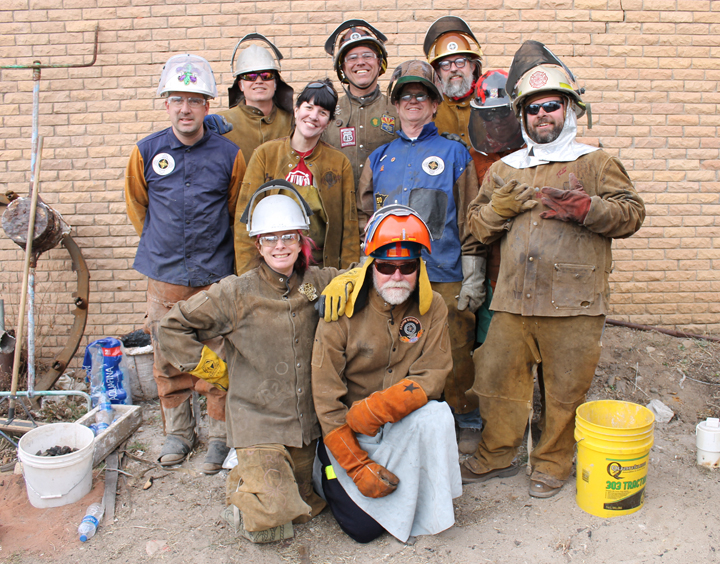 Back row from left to right: Ted Uran, Toby Flores, Christopher Meyer. Middle: David Jones, Ashley Hope Carlisle, David Lobdell, (hiding) Alison Ouellette-Kirby, Noah Kirby. Front: Rian Kerrane and Tom Fox.
Meet the Board Members
Tom Fox- President

Tom Fox was born and raised in Chicago Illinois. Things that define Tom: He is a lifelong fan of the 2016 World Series champion Chicago Cubs and had a middle class blue color upbringing. He earned a Bachelor's in Applied Design and Masters in Art from SDSU. Tom's maternal grandmother, June, was a multi material using home crafter. When he was an 8 year old kid she and his great aunt Carol were making slip cast ceramics, making plaster molds, glazing, and firing the electric kiln in Carol's basement. Junie was an ace welder, which was the trade she practiced until retirement in the late 80's. Early on, Tom was creatively inspired by her, his gear head uncles, and the accessible art in the city of Chicago. Tom has been in San Diego since 1982. While much of his recent work is presented in metal, he has been using ceramics, wood, found, and alternative materials for years. Tom has been the president of the 501c3 Western Cast Iron Art Alliance since 2012. In the new millennium, he has created and instructed a variety of visual art classes at: the UCSD Crafts Center, SDSU, SDCCD, and GCCCD". Since 2013, he operates a studio, Tom Fox Art and Design (TFD), in Pacific beach.
"Resist the formation of cliques. Find a way to make a living doing something you love."
David Jones-Vice President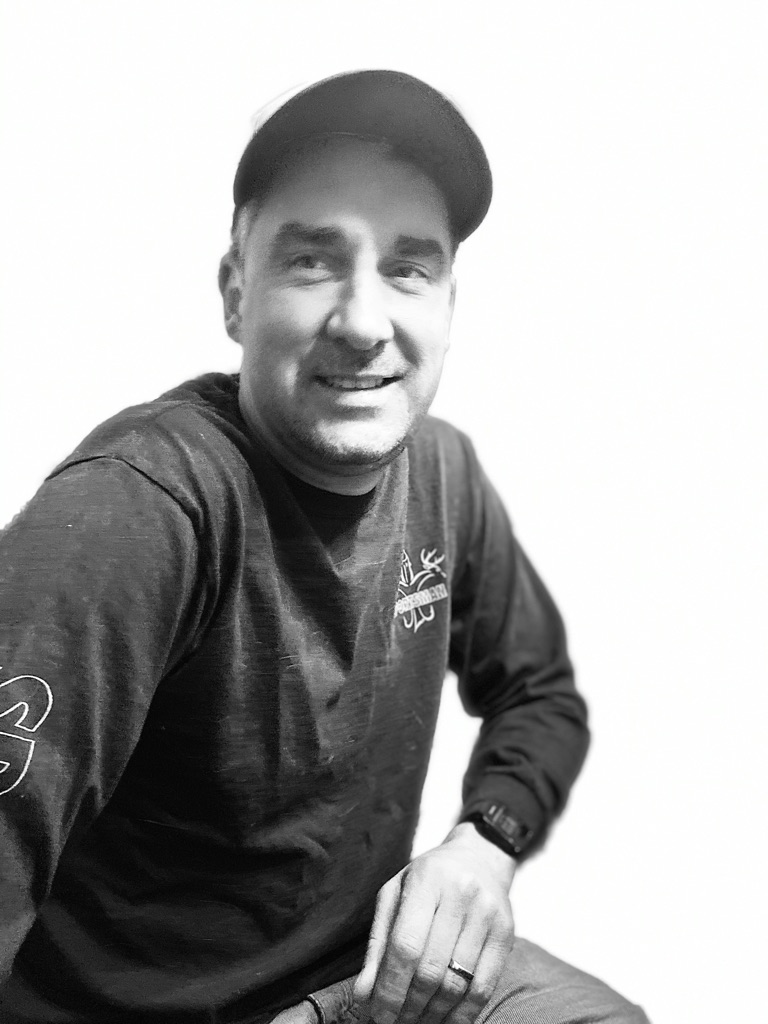 David Jones, originally from Augusta, Georgia, received his BFA in sculpture from the University of Georgia in 2000. For the following year he resided in Birmingham, Alabama where he worked in the Sloss Metal Arts Artist-in-Residency program casting iron before going on to pursue his masters degree. In 2004 he received his MFA in sculpture from the University of Tennessee and then moved west to Laramie, Wyoming with his wife who is Professor of sculpture at the University of Wyoming. David currently resides in Laramie where he works as Departmental Technician and Gallery Preparator for the art department there.
Toby Flores- Secretary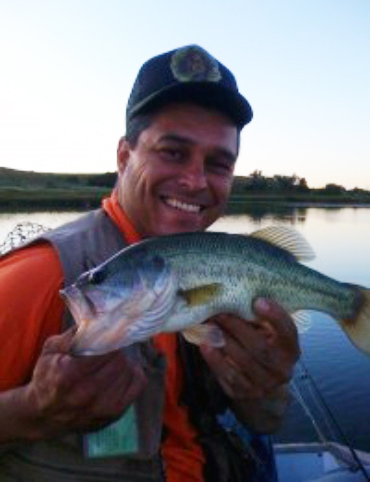 Toby Flores was born in Flagstaff, Arizona in 1971. He has been making art since he was very young. His mother and father encouraged creativity in many ways. His mother could cook, crochet and create macramé owls. His father could fix the cars, make things from wood, write and tell stories and dance until the sun came up. Toby studied printmaking, drawing and sculpture in San Diego receiving a BA from San Diego State University in 2000. He then studied sculpture and blacksmithing at Southern Illinois University at Carbondale receiving a MFA in 2003. Toby now lives and works in Hays, Kansas with his wife, Libby and his two boys, Cooper and Oscar. Toby has been teaching sculpture at Fort Hays State University since 2006. Toby's art is mostly sculpture these days. His objects: tell stories, vary in materials, are usually heavy and humorous, ornamental or functional, best made on a full stomach, blurring the boundaries between the hand made and the mass produced, and always made with a smile or a grin.
Ashley Hope Carlisle-Treasurer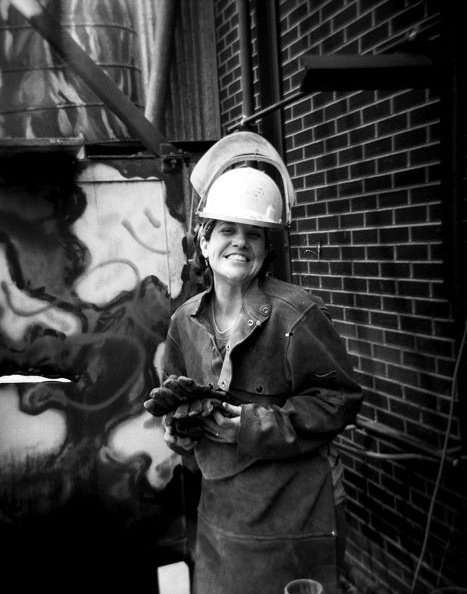 Ashley Hope Carlisle (b. 1975) creates art using drawing and sculptural processes to speak about how animals of all types disseminate due to natural causes, environmental change, or instinctual will. Utilizing formal concerns, the sensitivity of touch, and luscious materiality, Ashley Hope produces works that take both roles as visual guidance when confronting the uncomfortable, as well as reassurance when dealing with the inevitable. As an artist, Ashley has been the recipient of the ISC Outstanding Student Achievement in Contemporary Sculpture Award, has exhibited all over the United States, Italy, London, and was chosen as a Fellowship Artist Grant Recipient by the Wyoming Arts Council for 2007. She received her Master of Fine Art in Sculpture from the University of Georgia and is currently Professor of Art in Sculpture at the University of Wyoming. Ashley Hope Carlisle is originally from New Orleans, Louisiana, but has comfortably made a home in Laramie Wyoming with her husband David Jones, and their son Dylan Elijah.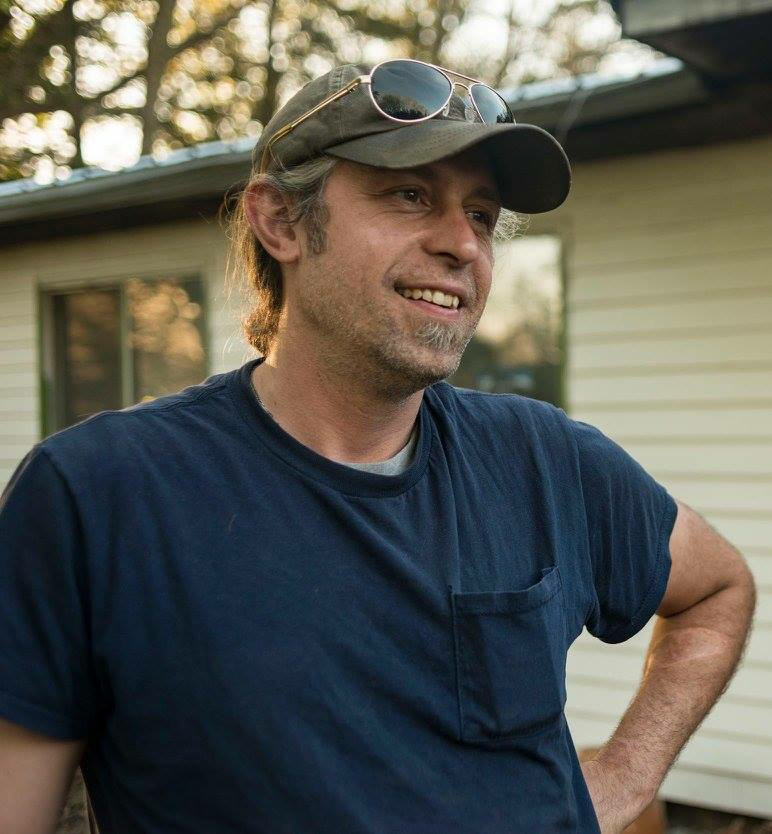 Christopher Meyer is a native South Dakotan and Associate Professor of Sculpture at his Alma Mater the University of South Dakota where he received his B.F.A. visual art in sculpture. Meyer earned his M.F.A. emphasizing in sculpture from the University of Montana in Missoula, MT. Meyer's work ranges from non-objective to representational sculptural objects, sculptural installations and performance work often times focusing on the interaction between the viewer and the work. The work may evoke a tool or a toy but without a stated purpose, or it may simply imply a raw emotional state but his objective is to create work that is humanist in nature. Christopher's studio practice tends to emphasize material and process and is made from a large variety of materials including cast metals, carved or fabricated wood and steel, fibers, mixed media or "whatever the piece needs to be." Since 2014 Meyer has made a deeper investment in cast iron; building a furnace and equipment necessary to make iron, bringing cast iron to the University of South Dakota and hosting an annual iron pour event at his home studio in rural South Dakota called the "Little Pour on the Prairie" each spring. Meyer annually travels thousands of miles to cast iron. Meyer's work has been published in several visual art publications regionally to internationally and has exhibited in over 100 regional and national exhibitions since joining the University of South Dakota in 2006. Meyer works and lives with his family consisting of his wife, two children, two dogs and way too many cats on a rural acreage full of materials somewhere northwest of Vermillion, South Dakota.
Rian Kerrane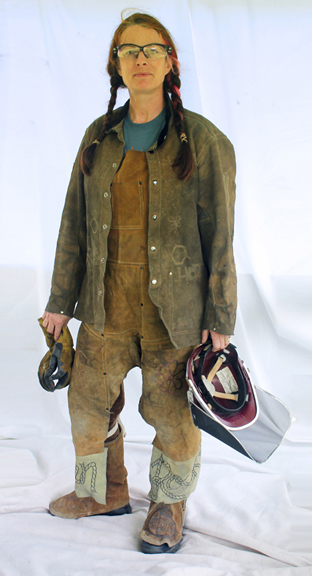 Born in Galway, Ireland, Rian Kerrane received a BA in Fine Arts Degree from the University of Ulster at Belfast and her MFA from the University of New Orleans, Louisiana. Professor at the University of Colorado Denver, her work shows nationally and internationally. She runs a site-specific summer study abroad program at the Burren College of Art in County Clare. Keynote for IRON R 2, Cork, Ireland in 2014 and a featured artist in the IRON R 18, Kerrane contributed to steering the 7th International Conference in Contemporary Cast Iron Art (ICCCIA) in Latvia and co-directed performances for the 8th ICCCIA in Scranton, Pennsylvania in 2018. She is a co-founder and board member for the Western Cast Iron Art Alliance. Recent works include Line of Inquiry, Glebe Gallery, County Donegal, Ireland in 2018 following a residency at the National Sculpture Factory in Cork, and The Oscar Wallpaper, commissioned in 2019 for Between Us, Denver, Colorado.
Noah Kirby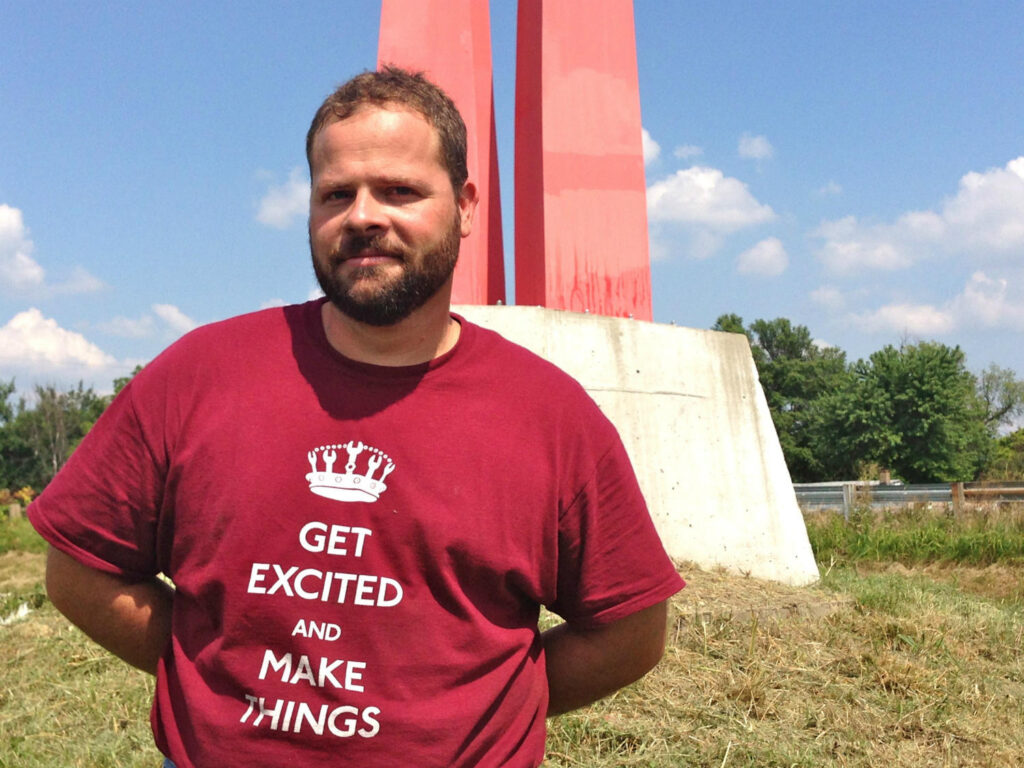 Noah Kirby received his Undergraduate degree the University of Tennessee in 1998 and his Masters degree from Washington University in 2000. Noah has worked for Cassily and Cassily Inc. at the City Museum in St. Louis, and runs N.K Metalworks in St. Louis. His work has been shown throughout North America at such venues as The National Ornamental Metal Museum, Bradley University, Auburn University, The University of Mississippi and String Gallery in Toronto. He currently teaches blacksmithing, fabrication, metal casting, 3-D Design, and public art practice for Washington University, and is Co-director of Six Mile SculptureWorks in Granite City, IL
David Lobdell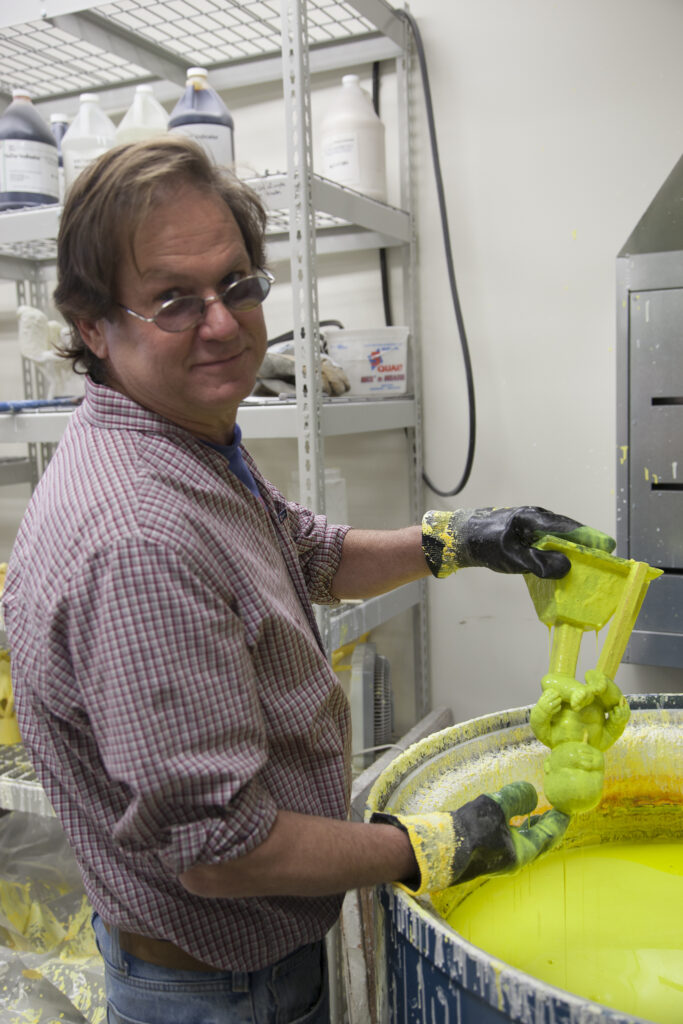 Born 1958 in Lafayette, Louisiana. He received his undergraduate degree in sculpture in 1979 from the University of Southwestern Louisiana and his M.F.A. in 1982 from the University of Notre Dame. He worked for a decade in foundries, potteries and as a commissioned artist before taking a full time teaching position. He has taught at New Mexico Highlands University since 1991 and currently serves as fine arts coordinator in the Department of Communications and Fine Arts. NMHU holds the Iron Tribe Exhibit biannually since 2001. He is interested in the relationship between ceramics, casting and ritual.View the Iron Tribe website: www.nmhu.edu/irontribe
Alison Ouellette-Kirby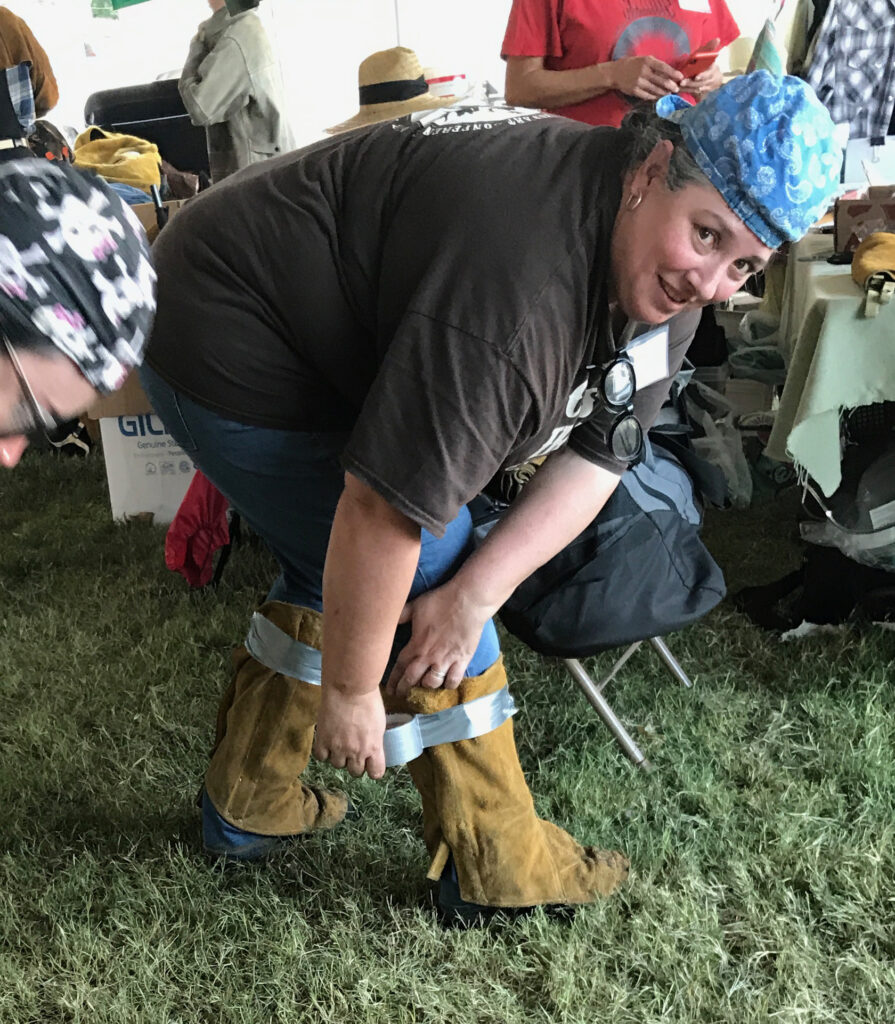 Alison Ouellette-Kirby received her Undergraduate degree in sculpture and photography from the University of Windsor in 1993 and her Masters degree from the University of Tennessee in Knoxville in 1996. Her work has been shown both nationally and internationally at The National Ornamental Metal Museum, The Walker Gallery at the University of Nebraska at Kearney, The Washington University Medical School of Medicine, The Art Gallery of Windsor and String Gallery in Toronto. She is a Professor of Art at St. Charles Community College. Alison and her husband, Noah Kirby, also a sculptor are Co-Directors of Six Mile SculptureWorks, a not-for-profit Sculpture Center in Granite City, Illinois. They live in St. Louis with their two dogs and a cat.
Ted Uran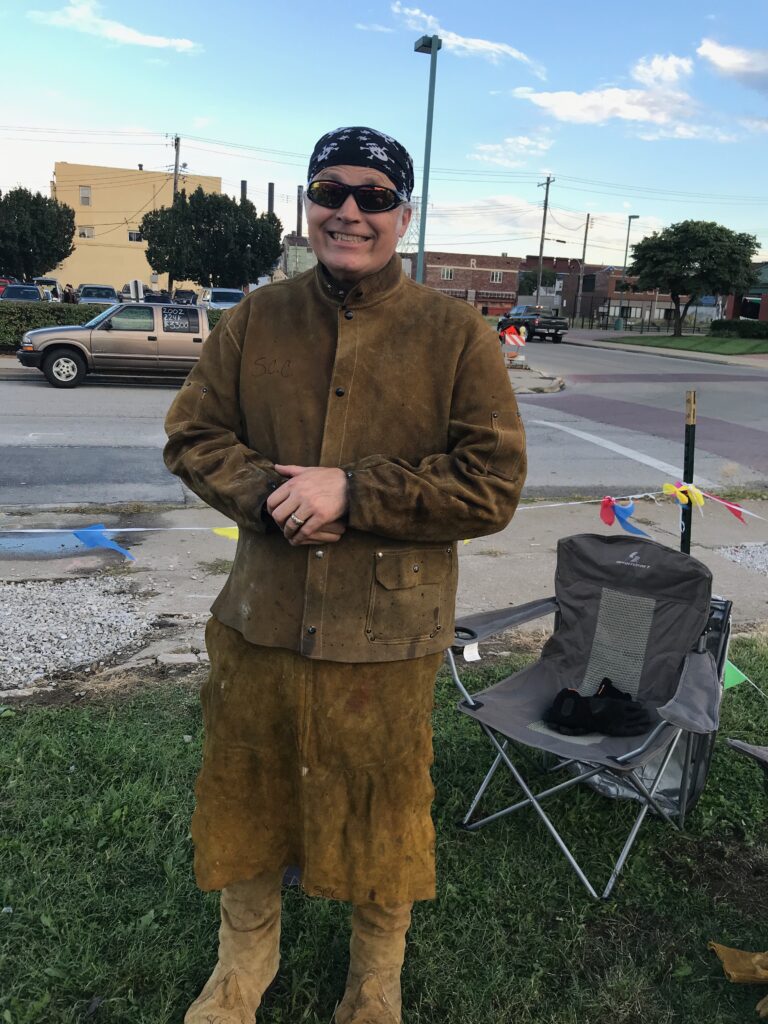 Ted Uran is a Native of Illinois. He spent his childhood there and attended Southern Illinois University Carbondale for his undergraduate work. In 1997 Ted moved to the Phoenix area to attend graduate school at Arizona State University. After completing his Master of Fine Art degree in 2000, he was hired as a full time faculty member at Scottsdale Community College, where he is currently teaching, as well as performing the duties of the Division Chair for fine and performing arts. When not teaching, administrating, or making art, Ted and his wife Brenda spend time volunteering for Arizona Border Collie Rescue, and camping in and around Arizona with all 4 dogs and usually a foster dog to boot.